Showcase Your Podcast Beautifully
Let your website visitors explore and connect with your podcast.
Easy to Create . Easy to Use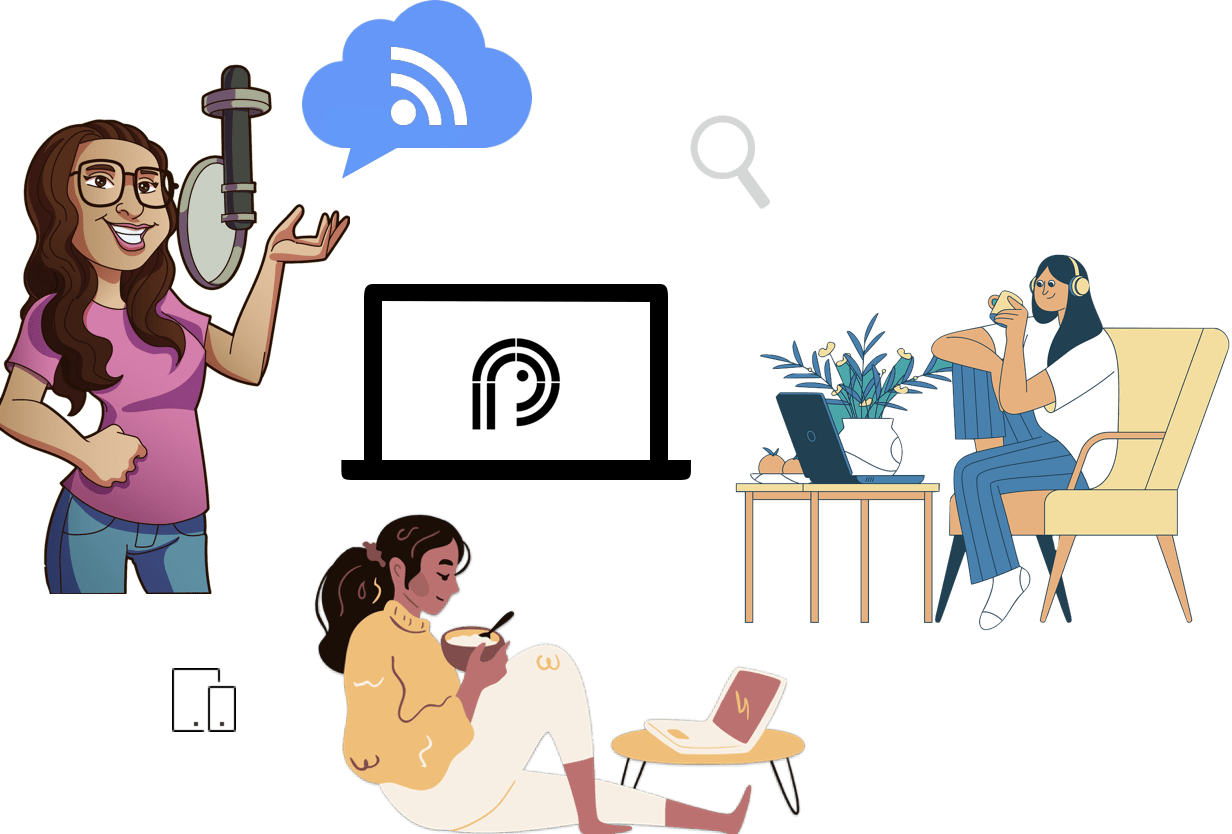 Clean, Professional and User-Friendly
Make a lasting impact with a professional and user-friendly player. Impress your listeners by guiding them effortlessly to your valuable content and standing out amidst the clutter.
Built-in Templates

Start by selecting from our range of pre-designed, visually stunning and high-performing layouts. Get your podcast player up and running in just a matter of minutes without sacrificing qaulity or functionality.

Customization

Enhance your brand identity and bring a seamless look to your podcast by utilizing our user-friendly customization options. Blend your podcast player with your overall brand aesthetics and design effortlessly.

Podcast Search and Explore Features
Hand hold your listeners to get the best from your podcast.
Better Podcast Search

Enhancing the search capability of your podcast can have a substantial impact on its discoverability and success. By optimizing the search process, your entire podcast archive can be effortlessly discovered and accessed with a simple click, thereby improving the overall performance of your podcast.

Categorize Your Podcast

The categorization of podcast episodes is often overlooked, yet it holds tremendous potential to improve the listening experience. When executed effectively, categorization can bring organization and direction to the consumption of podcasts, making it easier for listeners to find and enjoy specific content.

Import episodes to improve SEO and engagement
Import your content into a blog post and offer additional insights or a content enhancement.
Import Podcast Episodes

Streamline the process of adding podcast episodes to your website to increase the chances of being discovered by search engines and attract more listeners to your show. Integrating your blog posts with your podcast can help increase visibility and reach.

Custom Episode Player

Customize the appearance of your single episode player to match the look and feel of your website. Have the flexibility to edit episode information prior to import, ensuring accuracy and consistency of your podcast content.
Seamless Integration with Existing Workflow
Work with Your Podcast Host

No matter where your podcast is hosted, we only need a valid feed URL to showcase your podcast on your website.

Display Anywhere

Use widget, shortcode, editor block or even Elementor to display podcast anywhere on your site. It should work seamlessly with any of them.

Replace Existing Players

Easily replace default single episode players from Blubrry or Seriously Simple Podcasting with beautifully designed podcast player.
Secure and Privacy Friendly
Secure Codebase
The Podcast player is designed with a focus on security and efficiency. We have employed the best coding practices to ensure that the code is both secure and streamlined, without any unnecessary bloat. By prioritizing security and performance, the Podcast player is a trusted and dependable choice for those who want to listen to their favorite podcasts with confidence.
Privacy Friendly
The Podcast player does not generate or store any cookies, nor does it gather any information about users or listeners. It simply displays your podcast content as is. However, it's important to note that your podcast RSS feed may contain elements that impact privacy, so it's important to consider privacy when creating your podcast. In conclusion, the Podcast player only displays your podcast content without altering user privacy.
Create Single Episode Player
Easily add single episode players to your posts, pages or any post types
Just choose an episode from your feed to be displayed in single episode player
You can also show single episode player using audio mp3 url
Create Player Using WP Posts (without feed)
The Podcast player Pro offers a convenient and flexible way to showcase your podcast, without requiring a feed URL. You can easily add audio MP3 files to your WordPress posts or any other post type, and the player will beautifully categorize your episodes for easy navigation and listening. This makes it easy to display and share your podcast content, giving you more control over how your episodes are presented and consumed by your audience.
Podcast Content Management
Have greater control over your podcast content. Select which seasons, categories, or episodes you want to display or hide in your podcast player. This can help you to better organize your podcast and make it easier for your listeners to navigate and find the content that they're looking for.
Social and Subscription Links
Social Sharing
With Podcast player pro, your listeners can easily share an episode on there social media. With one click, they can,
Responsive and Translation Ready
Podcast player has a mobile-responsive design to ensure that it looks great and is easy to use on all devices, including smartphones and tablets. Additionally, the player is accessible for people with disabilities. The player is also designed to be easily translated into different languages.
Get Started Now
Get started with Podcast player pro or try free version on WordPress.org
Can I use the plugin on non-WordPress website?
No. Podcast player will only work with self-hosted WordPress installation.
What is the difference between yearly and lifetime plans?
Yearly Plan
With yearly plan, podcast player is supported only up to 3 websites per license purchase.
Yearly plan must be renewed after one year to receive regular support and updates.
Lifetime Plan
With lifetime plan, podcast player is supported only up to 25 websites per license purchase.
No renewal or recurring payment required. Buy it once, use forever.
What kind of support can I expect?
We take support very seriously. Top-notch customer support for Active license key holders is key for a quality product, so we'll do our very best to resolve any issues you encounter via email support. Please check our support policy for more information.
Updates include new features, improvements in existing features, performance enhancements and bug fixes.
How many sites can I use Podcast Player Pro on?
With yearly plan, podcast player is supported only up to 3 websites per license purchase.
With lifetime plan, podcast player is supported only up to 25 websites per license purchase.
Will I be billed automatically after 1 year?
No. You'll never be billed automatically after your initial purchase. If you opted for yearly plan, you need to manually renew your license to receive regular support and updates.
Will my podcast work with Podcast player pro?
Most of the podcasts works perfectly with Podcast player pro. However, you can first use our free version of Podcast player to make sure that Podcast Player pro will work on your website.
We stand behind the quality of our product and will refund 100% of your money if you are within 30 days of the original purchase date and if you experience an issue that makes the plugin unusable and we are unable to resolve it. Please check our refund policy for more information.