Integrate your podcast with your website
Let your website visitors explore and connect with your podcast.
Easy to Create . Easy to Use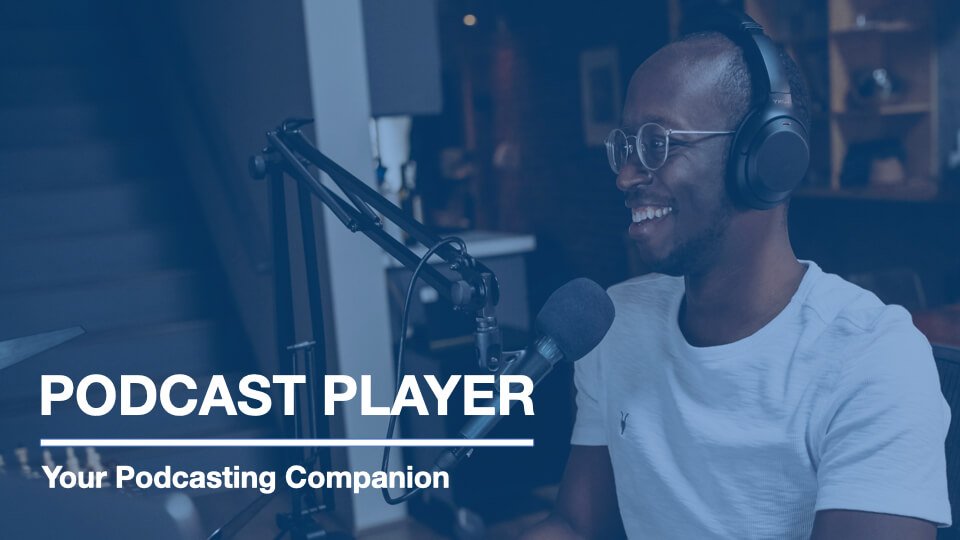 Professionally

showcase your podcast

to create lasting impression
Break through the noise and stand out by showcasing your podcast in a great and user friendly way. Effectively guide your listeners to the valuable content they are looking for.
Built-in Templates

Start with any of our built-in, beautifully performant templates to get your podcast player up in minutes.

Customization

Use our intuitive customization options to blend the player with your overall brand and design.

Enable listeners to

find and explore

your content efficiently.
Hand hold your listeners to get the best from your podcast.
Better Podcast Search

Effective podcast search can significantly increase discoverability and performance of your podcast. It will put your entire podcast collection just a click away.

Categorize Your Podcast

Categorization of podcast episodes is probably the most neglected part of podcasting. If done correctly, it can bring clarity and focus in podcast consumption.

Import podcast episodes to

repurpose its content

and get SEO benefits.
Repurpose your content in the form of a blog post and provide additional information or content upgrade.
Easy Podcast Import

Easily import podcast episodes to your website. Help your blog posts to be picked up by Google and attract even more new listeners to your show.

Custom Episode Player

Add custom styled single episode player to each episode. Also, edit episode information before import.
Secure and Privacy friendly player for your website
Secure Codebase
Podcast player pro is developed by following the best coding practices to provide highly secure and bloatfree code.
Privacy Friendly
Podcast player on its own does not create or save any cookies. It also does not collect any user or listener data.
Podcast player pro display your podcast's content AS IS. Therefore, although podcast player will not create any cookies on its own, however, your own podcast RSS feed may have some content which may require privacy consideration.
In short, Podcast player just display your podcast's content without adding anything which affects user privacy.
Social sharing and Subscription Badges
Social Sharing
With Podcast player pro, your listeners can easily share an episode on there social media. With one click, they can,
Share on Facebook.
Share on Twitter.
Share on Linkedin.
Share via Email.
or Directly copy episode link to manually share anywhere.
Subscription Badges
We support beautifully designed (very close to the official design) subscription badges for 19 services. Let your listeners easily subscribe to your show using these subscription badges.
Add single episode players to your posts or pages
Easily add single episode players to your posts, pages or any post types
Just choose an episode from your feed to be displayed in single episode player
You can also show single episode player using audio mp3 url
Create podcast player just using your posts (without a feed)
You don't even need a feed url to showcase your podcast. Add an audio mp3 to your WordPress posts (or any post type) and display beautifully categorized episodes.
Get control over your podcast content display
Get better control over your podcast content. Choose what seasons, categories or episodes you want to show or hide in the player.
Seamless integration with your existing workflow
Work with Your Podcast Host

No matter where your podcast is hosted, we only need a valid feed URL to showcase your podcast on your website.

Display Anywhere

Use widget, shortcode, editor block or even Elementor to display podcast anywhere on your site. It should work seamlessly with any of them.

Replace Existing Players

Easily replace default single episode players from Blubrry or Seriously Simple Podcasting with beautifully designed podcast player.
Responsive, accessibility friendly and translation ready
Podcast player has all the necessary goodness like, mobile responsive design, accessibility friendly and can be translated in your native language.
Get Started Now
Get started with Podcast player pro or try free version on WordPress.org
Can I use the plugin on non-WordPress website?
No. Podcast player will only work with self-hosted WordPress installation.
What is the difference between yearly and lifetime plans?
Yearly Plan
With yearly plan, podcast player is supported only up to 3 websites per license purchase.
Yearly plan must be renewed after one year to receive regular support and updates.
Lifetime Plan
With lifetime plan, podcast player is supported only up to 25 websites per license purchase.
No renewal or recurring payment required. Buy it once, use forever.
What kind of support can I expect?
We take support very seriously. Top-notch customer support for Active license key holders is key for a quality product, so we'll do our very best to resolve any issues you encounter via email support. Please check our support policy for more information.
Updates include new features, improvements in existing features, performance enhancements and bug fixes.
How many sites can I use Podcast Player Pro on?
With yearly plan, podcast player is supported only up to 3 websites per license purchase.
With lifetime plan, podcast player is supported only up to 25 websites per license purchase.
Will I be billed automatically after 1 year?
No. You'll never be billed automatically after your initial purchase. If you opted for yearly plan, you need to manually renew your license to receive regular support and updates.
Will my podcast work with Podcast player pro?
Most of the podcasts works perfectly with Podcast player pro. However, you can first use our free version of Podcast player to make sure that Podcast Player pro will work on your website.
We stand behind the quality of our product and will refund 100% of your money if you are within 30 days of the original purchase date and if you experience an issue that makes the plugin unusable and we are unable to resolve it. Please check our refund policy for more information.